The Challenge: Cutting Through Email Exhaustion
In years past, The Professional Convention Management Associations (PCMA) relied on email as the primary channel to promote their annual Convening Leaders event. But as they launched marketing for their 65th annual meeting experience in January 2022, the team saw immediate signs that their tried-and-true strategy wasn't working.
COVID had largely eliminated the ability to meet in person; and like many associations, PCMA had turned up the volume of emails to stay in communication with their members. But without the right tools to segment their full email list down, PCMA was having to make guesses on how best to communicate with this COVID-influenced audience at large. This, in turn, was diluting their message and exhausting their list.
As the conference grew closer, and with registrations still well behind compared to past years' performance, PCMA Chief Operations Officer, Bruce MacMillan turned to Hum for help.
"This is the million dollar challenge," said MacMillan. "How do you solve email overload at a time when our audiences were digitally fatigued when email has been the channel we relied on most?"
In order to cut through the noise and move the needle on their ambitious in-person and digital attendance goals, PCMA needed a way to refresh their email strategy and tap into their best prospects - fast!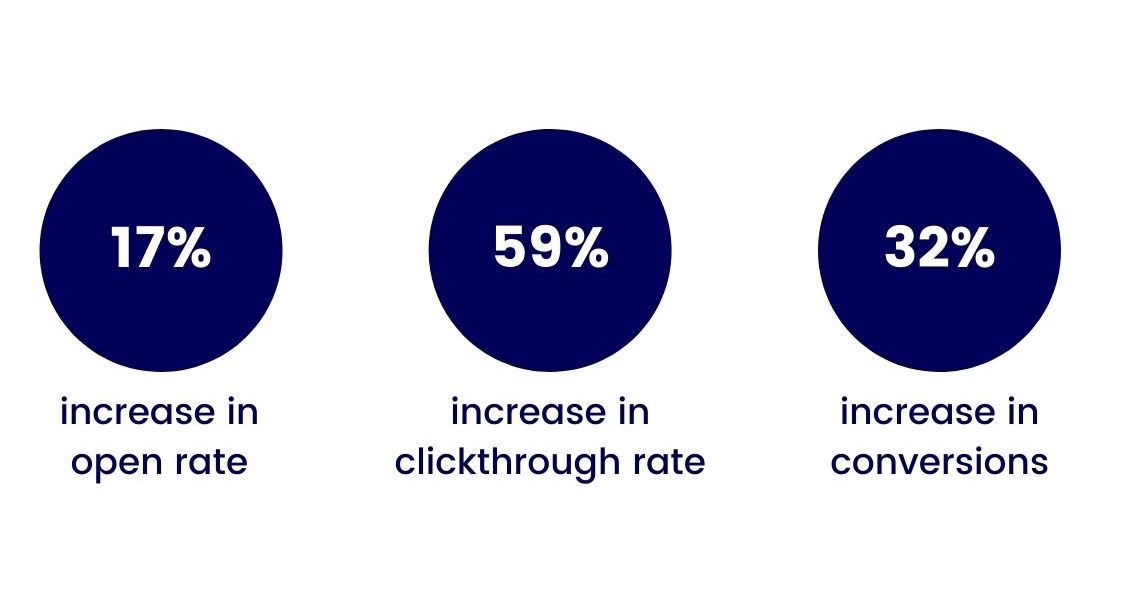 The Solution: A Data-Centered Approach to Email Marketing
Hum's first step was to unite PCMA's CRM data with first-party data across all of the platforms in their tech stack - giving them the tools to see beyond performance in Pardot (PCMA's email platform) alone, and unlocking a 360-degree view of how every individual in their marketing ecosystem was engaging with them across each channel.
For the first time, PCMA had clear access to insights about how individuals and groups of individuals were interacting with content across PCMA digital platforms. With Hum's help, they could see a holistic picture of their audience and new strategic opportunities to revitalize their email outreach with the following:
1. Highly Targeted Email Segments
Hum helped PCMA to define top priority segments of potential attendees and focus first on audience members that had shown signals to indicate interest, including:

Visiting the registration page without completing a purchase

Visiting hotel or travel information pages for Convening Leaders

Non-registered PCMA members with a proven interest in digital topics
By focusing on audience segments that were more likely to register, PCMA was able to send more effective, tailored messaging that appealed directly to these audiences' interest - and prevent over-saturating their full audience with a less relevant message.

2. Highly Relevant, Tailored Messaging
With Convening Leaders only weeks away, Hum helped PCMA shift away from general messaging about the conference experience to promotion directed at groups most likely to purchase - for example:

Targeting PCMA members living in cities within 6 hours driving distance of the conference venue with special last-minute pricing for in-person tickets.

Targeting people who had visited the Health & Safety page on the Convening Leaders site with messaging about enjoying the best of CL22 virtual conference experience from the safety and comfort of home.
Hum audience segments are dynamic, meaning they constantly evolve as users qualify or disqualify based on behavior; and because these segments are integrated directly into Pardot, PCMA was able to easily distribute tailored messaging to high intent audiences.
3. Nurturing Campaigns
In addition to retargeting audience members based on website activity, Hum recommended using simple nurturing campaigns to further the effectiveness of email sends, based on email engagement.
Following an announcement email with details about their CyberMonday special offer on ticket pricing, PCMA deployed two follow-up emails - one designed to retarget users who opened the first email without converting, and one to retarget users who didn't open the original email at all.

By adding a second email touchpoint, PCMA reengaged their audience and increased registrations at a critical point before the window to book in-person tickets and travel had closed.
The Results: 59% More Clicks on Convening Leaders Emails
By introducing targeted segmentation, tailored messaging, and nurturing based on behavioral data, PCMA was able to refresh their email marketing strategy and successfully reach their audience for Convening Leaders. Emails sent using Hum segments garnered a 17% higher open rate and a 59% higher click rate compared to those sent in Pardot to a broad audience.
What's more, these Hum-powered emails were proven to drive registrations - particularly when it came to retargeting website visitors who had shown interest in Convening Leaders but had not yet registered to drive digital event ticket sales.
Hum helped PCMA uncover 225 members in their database that were eligible for CL22 marketing but were not receiving it; of that audience, 45 registered for CL22 once they were added to the appropriate email campaigns.
"We got much further by sending fewer, better emails to our most engaged members. Having access to our data in Hum and the ability to segment our audience based on that has made a monumental difference," said MacMillan.
With Hum's help, PCMA not only closed their ticket sales gap, but exceeded their lofty goal of 2,500 in-person registrations. Hum-powered emails also drove them to close 70% of their digital ticket sales in a three-week period.
--
Learn how Hum is helping forward-thinking, fast growing organizations use data to grow - Check out our other success stories.