You've seen it in the news - the end of third-party cookies. And thought Google keeps pushing back the deadline to deprecate third-party cookies - the organizations that adapt before the deadline will be the ones who come out ahead.

There will be an immeasurable impact on advertisers who rely on Demand-Side Platforms (DSPs) to place ads. In kind, 2023 will be a year of data-powered opportunity for the media business. In order to serve advertisers, B2B publishers and B2C media organizations alike will need to build strategies to maximize their first-party data. In doing so, they'll open avenues for developing trust and deeper relationships with readers.
First party data is data that media companies (the "first party") collect directly from their customers, site visitors, and social media followers to use for retargeting. Second party is information that publishers didn't collect themselves and use secondhand between a separate trusted source. Often both parties come to an agreement where that data will mutually benefit both companies. Third party data is often collected and sold to companies so they can build better advertising strategies, for example. These may not be their actual customers, however, it's often used to complement first party data to find trends and patterns often overlooked.
With this data is going away, publishers need a way to collect and aggregate first- and second-party data. Many media organizations are adopting customer data platforms (CDPs) to collect first-party data that's clean, compliant and respects their customers' privacy.
Managing First-Party Data with Customer Data Platforms (CDPs)
CDPs centralize all first-party data from various sources including anonymous web traffic, CRM's, virtual event platforms, email marketing tools, and other data management platforms. Then, the data is analyzed to create individual customer profiles that can be used to grow and nurture those audience members on a personal level.
To win in 2023, media organizations will need to prioritize the rich content capabilities that customers are seeking. With a CDP, your existing technology systems connect to marketing services and data analytics creating rich customer experiences that update in real-time based on individual interests. Plus, your CDP will be able to collect and distribute data to your business, development and engineering teams, creating a feedback loop that improves overall customer experience.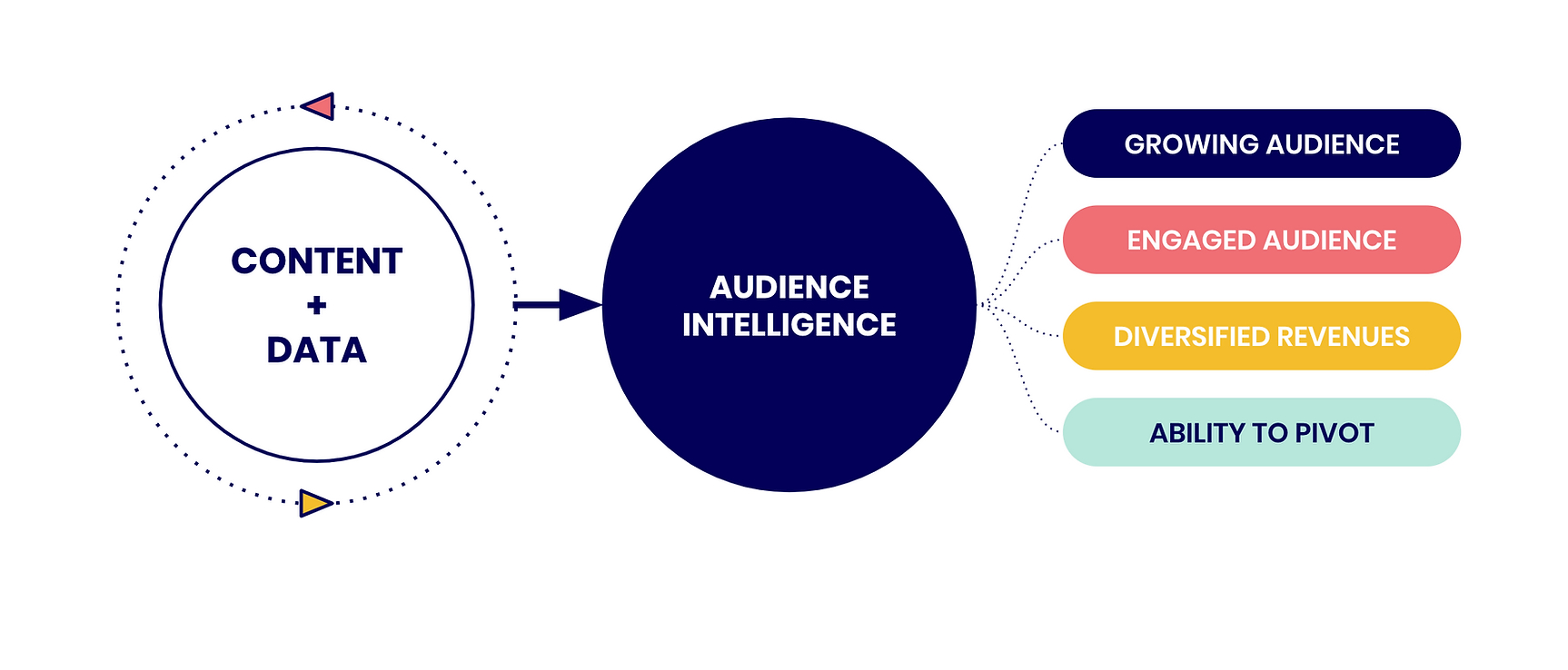 Top Media Use Cases for CDPs
​Now you know what a CDP is. Here are a few ways media companies can leverage CDPs to grow their business:
Generating a 360° Audience Understanding
​CDPs help media publishers collect real-time data from every technology source in your ecosystem to profile each and every customer. Then, they use rule-based segmentation to pull together audience segments composed of customers with similar profiles. This deep audience understanding is used to create powerful, custom-tailored marketing campaigns built around each individual customer journey.
This 360-understanding doesn't end with identified readers and subscribers. CDPs also profile the hundreds of anonymous users that visit your websites each day. Advanced segmentation techniques, paired with smart digital marketing turn unknown browsers into identified profiles, and eventually subscribers. Consider anonymous readers a thing of the past.
Driving Advertising and Sponsor Revenue
​Media organizations need to know the in's and out's of how their customers are interacting with their content in order to drive revenue with marketing programs. By gathering customer data from email, website and mobile apps, CDPs give sales teams the comprehensive visitor data insights they need to improve sponsor sales conversations.
By connecting sponsors with the exact target audiences they want to reach, publishers can leverage this data to drive profits from selling advertising programs. The better you understand which keywords and content themes are driving engagement with key audiences, the better you can serve them ads that match their interests. Learn how CueBERT - Hum's AI taxonomy tool, can improve and automate accurate content tagging to maximize your profit.
Developing Account-Based Marketing (ABM) Programs
With CDPs, publishers can enhance their advertiser marketing solutions by holistically understanding key stakeholders for high-value accounts on a behavioral level.

This data-powered effort not only aligns sales and marketing team goals, it also allows marketers to use their resources efficiently by running programs for targeted accounts. CDPs also make it easier to gauge effectiveness of campaigns by sharing a coordinated view of success metrics across websites, ads, email marketing, and events.
Modernizing User Experiences
CDPs inform and launch personalized, curated content recommendations on-site and in email. These highly curated content recommendations and digital experiences are no longer just nice to have - modern audiences demand them.
CDPs, especially those built with B2B media companies in mind, understand reader content interactions to predict what they'll want to see next. These insights can be used to inspire tailored on-site experiences and targeted marketing and communications alike.
First-party data informs next-gen content strategies like these, all while expanding the reach of existing digital content. Savvy media execs will find opportunity to monetize these improved content experiences, via sponsored programs like CyberRisk Alliance's Centers of Excellence Program.
CDPs understand reader content interactions to predict what they'll want to see next. These insights can be used to inspire tailored on-site experiences and targeted marketing and communications alike. ​
Improving Email Performance and Engagement
By capturing read behavior history and flagging inactive customers, CDPs help you send fewer, better emails to engaged segments of your audience.
Email segmentation helps companies improve performance and drive higher conversion rates from their email marketing programs. The real-time data generated in CDPs allows for personalized email marketing experiences that increase audience engagement, leading to higher click and open rates on email campaigns. Ultimately, smart email segmentation strategies like these result in more relevant messaging and less database churn.
Pivoting in Real Time Based on Audience Feedback
After enabling your CDP, publishers can expect real-time feedback based on what content and experiences interest your audience groups the most.
From sparking new sub-communities to topic driven newsletters to new content collectives to new events and speaking topics, media companies can use this real-time feedback to inspire the creation of new content, products and offers. In a sea of competition to deliver better digital content, those organizations who can step up and meet demand will win.
What Else Can a CDP Do For You?
CDPs like Hum help media organizations deliver modern content experiences that readers and subscribers crave.
Learn more about top CDP use cases for B2B and B2C Media organizations.