Growing up, I had a band teacher, Mr. Sampson, who used to say (when I wasn't listening):
"You gotta learn to listen and listen to learn!"
Flash forward a few years — I won't say how many — to my career in tech, when Mr. Sampson's words really started to ring true.
Technology Development is a Crash Course in Learning to Listen
I spent the first third of my career developing web applications for a consulting firm specializing in the human experience. As you might imagine, we believed that every interaction was an opportunity to improve the human experience. In action, this meant we took special care in knowing about the end user. Were they internal employees or end consumers? Were they tech savvy or not-so-savvy? Every digital touchpoint is an opportunity to improve their experience with a company or product. Over the next 5 years, as an architect at Silverchair, a scholarly and professional publishing technology company, I brought that same passion for human experience to associations and societies through their scholarly publications. There, we helped ensure people were able to find the content they wanted and have a delightful experience while doing so.
Associations, societies and B2B media have many touchpoints related to, but beyond publishing. Audiences are interacting with their websites, emails, events, learning modules and more. Unfortunately, the systems that manage these touchpoints are each complex in their own way and don't share information with each other. They're bad at listening to one another and this makes it incredibly difficult to get a 360 view of how those audiences are interacting across all systems.
CDPs Help Big Businesses Listen
Customer Data Platforms (CDPs) have become popular over the last decade because they listen to everything a user is telling you across your various systems. This allows them to paint these 360 pictures about how individuals and groups interact with your organization. Tech giants like Facebook use CDP tech (plus a massive team of engineers and data scientists) to decide what shows up in your news feed or what ads or games you might be interested in.
There are many off the shelf CDPs built for various purposes — think Data Warehousing, MarTech, Analytics, Ecommerce, etc. Therefore, they are better at some things than others. These tools are great at product placement, selling ads, and storing big data, but associations and societies have a different set of needs and concerns. They are serving members and vendors while growing careers, networks and products. They don't have the bandwidth to try to make off the shelf CDPs solve problems they weren't built to solve.

Targeted CDPs Help Content-Driven Organizations Listen… and Serve
Enter the Next Generation Customer Data Platform. We predict a new era where CDPs will be built for specific use cases. In this case, you're here to learn about CDPs for associatons and societies. This new category of technology tracks data, just like a generic CDP, but they have another layer built for their specific industry. For associations and societies, there's a nonprofit-specific activation engine to better grow and engage members and audiences. For publishers, there are special modules to understand reader behavior. For B2B Media, there's a toolkit to power account based marketing (ABM). Essentially, they make it easy to solve for specific use cases and pain points by industry.

And next gen CDPs make it easy for an organization to activate members, subscribers and partners via integrations with each piece of your existing tech stack. No data scientist required. We've heard some in the associations space call this class of tech "Insight Engines"... We just say "CDPs for Associatons!"
"We see the Insight Engine category as essential for associations in 2021 and beyond. What we really love about Hum is that they're so much more than software — it unifies our systems to uncover actionable, data-driven ideas for growing our digital properties. The results have been transformational. Hum has helped us ensure success as we reimagine what digitalNow events and communications look like."



- Leadership Team, digitalNow Conference
Meet Hum's Customer Data Platform
At the heart of Hum is our CDP. We integrate with your existing systems to help you paint that 360 view. Hum creates one central hub of intelligence that consolidates everything you know about the people you serve.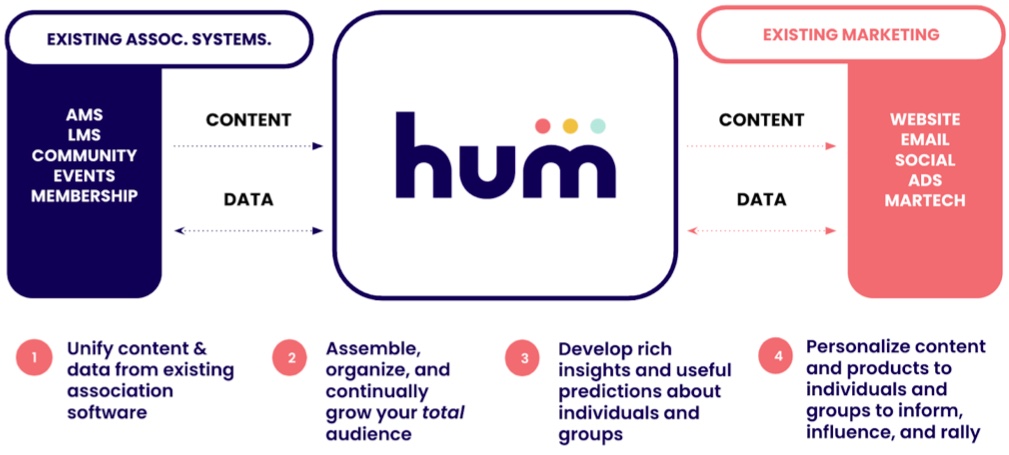 Hum sits on top of your CMS, Journal sites, AMS, LMS, etc. It listens to them and unifies data about an individual's relationship with your association. Clicks on the websites, items they buy, tests they take, even calls to member support can be gathered and viewed on a single page.
But Hum takes it a step further. Because you're not only interested in how a person behaves in isolation. You also want to understand how segments of people behave. Using commonalities that Hum gathers by listening to your audience, we are able see important trends and opportunities.
An Example: Next Gen CDP in Action

Let's take a look at a simple example of two Association segments built from AMS and Event Data
Member Attendees: Members who have attended a virtual event
Member Non-Attendees: Members who have not attended a virtual event
What (other than attending) are Attendees doing that Non-Attendees aren't? Hum will give you insight into the differences between these two audiences and allow you to act on it. Let's say there's an article on Vaccine Distribution that's driving the Attendee group to the events. If we get that article in front of the Non-Attendees, we can drive more event participation. Additionally, we can take the Attendee list and create a social media lookalike campaign to run on Facebook and LinkedIn. Now we've taken data about our attendees and used it to better serve our Non-Attendees as well as attract brand new audience members.
Extrapolate that example out to other ideas — engaging sponsors in year-round programs, sharing content to exactly match member interests, engaging new audiences with targeted campaigns —and you can start to see the growth potential for your organization.

Listening Makes Experiences Better
The truth is, the more noise there is on the internet, the harder it is to listen. It's never been more important to engage the right people with the right messages at the right time. A CDP like Hum helps you cut through the noise to improve the way you interact with your audiences. This capability will become increasingly important as you try to attract younger, digital-natives who (news flash!) won't waste time wading through content that doesn't apply to them. They expect personalized, custom experiences. These expectations were set by giants like Facebook, Amazon, Netflix and Spotify who use CDPs to deliver the exact posts/ products/ shows/ songs that match their interests.
Next gen CDPs help content-driven organizations meet the same expectations, in the context of personal and professional development.

If you think you're ready to kickstart growth at your organization, don't miss our Guide to Digital Transformation. Or, just reach out— we'd love to help you assess if Hum is right for you.