The Challenge: Marketing PCMA's Hybrid Event
The Professional Convention Management Association (PCMA) was gearing up for their 65th annual Convening Leaders conference in January 2022. The PCMA team and sponsors alike were eager to return in person, and wanted to do everything in their power to make sure they hit their attendance goals.
While they'd anticipated that attendees would hesitate to buy tickets as far in advance as they might have before COVID, immense turnover within the meetings and events industry itself had surfaced an additional challenge of addressing a new audience with no prior awareness of Convening Leaders.
With only three months before the event, in-person registrations trickling in, and digital registrations at a mere 25% of their registration goal, PCMA Chief Operations Officer Bruce MacMillan knew that they couldn't afford to sit back and hope that the ticket sales would come.
In order to meet their ambitious in-person and digital attendance goals, PCMA needed a partner who could help them build an effective data-centric marketing strategy that would get them across the finish line.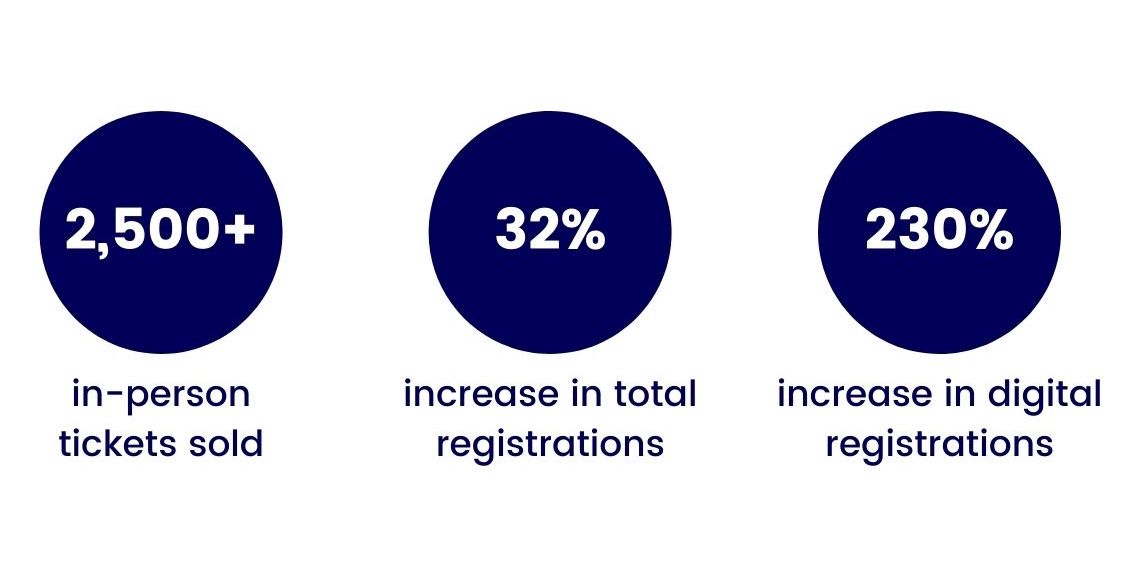 The Solution: An Event Marketing Strategy Guided by Customer Data
PCMA turned to Hum for help using existing data to drive new registrations and maximize their event.
Hum quickly unified PCMA's first-party data, unlocking insights that were previously siloed within their tech stack; collecting audience profiles and connecting user data across platforms like Pardot, Aventri, Juno, and Fonteva.
Now, armed with a 360-degree view of audience interactions, Hum worked with the PCMA team to prioritize, build, and activate key segments based on their engagement across platforms and the Convening Leaders website, including:
Website visitors that abandoned the registration page before completing a ticket purchase

Website visitors that engaged with high-intent pages (i.e. hotel details, ticket pricing) without completing a registration

PCMA audiences with a proven interest in digital topics
These segments, constantly collecting new intelligence and updating in real-time, made it simple to identify trends based on behavior and prioritize marketing to the segments most likely to register.
Most importantly - this access to audience intelligence made it possible to target messaging, appealing directly to the interests or objections of individual segments instead of a one-size-fits-all strategy.
As the event loomed closer and the window for in-person registrations began to close, the Hum team provided the additional marketing support and elbow grease needed to push registrations across the finish line, optimizing Drift chatbot flows and recommending conversion-focused messaging for landing pages and emails in order to:
Promote one last offer for special pricing on in-person registrations, delivered to members in cities within 6 hours driving distance of the conference venue.

Retarget website visitors who had visited pages that signaled a high intent to register with reminders about the program and travel details.

Retarget website visitors who had visited the Health & Safety page on the Convening Leaders website with messaging about enjoying the digital event from the safety of their homes.
The Results:
230% Increase in Digital Event Registrations
With Hum's help, PCMA not only closed their registration sales gap in a three month period, but exceeded their lofty goal of 2,500 in-person registrations.
Hum's audience intelligence tools uncovered an incremental 225 members within PCMA's existing database that were eligible for CL22 email marketing. Of this audience, 45 members registered for CL22 in the month leading up to the conference.
What's more, strategic focus on marketing digital event registrations led PCMA to secure 70% of their total digital registrations in the three remaining weeks before the conference began.
In fact, Hum-powered emails showed immediate improvement in open rate as compared to all other Convening Leaders 2022 emails. By adjusting email marketing strategy to target strategic segments of their audience with tailored messaging, PCMA was able to more effectively reach their audience and drive registration.
"Having Hum as a partner helped us extend our qualified reach and accelerate returns on the marketing we were already doing," said MacMillan. "The data insights we were getting were invaluable in closing the gap for CL22 with just a few weeks of data. We are now in a better position to build on these insights for future event marketing initiatives."
--
Learn how Hum is helping forward-thinking, fast growing organizations use data to grow - Check out our other success stories.