It's no secret that the Covid-19 pandemic upended a lot of our lives. Associations were forced to cancel in-person events and learn to navigate and market virtual events. Workers around the world had to learn how to work and communicate from their homes instead of in-office. In addition to these quick shifts to a virtual world, many employers had to quickly figure out how to get their teams up and running in a remote environment. What was expected to be a few weeks of remote life, turned out to last over 12 months. During the past year, workers have overcome struggles like "Zoom-fatigue", setting boundaries between work and personal time, and learning to collaborate in a virtual setting. Now people are accustomed to the benefits of remote work, such as having a flexible schedule and not waking up early for a long commute.
It has become clear to employees and employers alike: not only can we be trusted to accomplish project tasks at home, but we can excel in this environment!
A study from Nonprofit HR released at the end of March '21 shows that 69% of nonprofit organizations are considering continuing remote work practices beyond Covid-19, with 10% of respondents expecting an increase in headcount (with a focus on hiring for remote roles).
Results from a Harvard Business School survey, also released at the end of March '21 show that 27% of participants hope to work fully remotely and an additional 61% would like to be remote at least 2-3 days a week.
Hopefully, with the growing distribution and availability of vaccines, the pandemic lifestyle as we know it won't last much longer – but remote work is here to stay.
So, how does one go about finding a new shiny remote role?
Early in my career, I had small tastes of working from home a couple of days a week to offset high stress/high workload periods. The more I thought about it, the more I realized that I would enjoy working remotely full-time.
A few years ago, whenever I searched "How to find remote work" the results would yield listicles that would include links to companies that hire freelance work for roles like transcribing, data entry, customer call centers, or very technical roles like web development or database administration.
It took some trial and error (and time for job board sites to create "remote" filters for job hunters) to discover a good process for finding remote roles. My role as a Business Analyst at Hum is my first 100% remote role after years of working in a hybrid environment! The rest of this blog post covers what I learned over the years and the process that led me to Hum.
Personality Traits That Thrive in Remote Work Environment
First, some personal reflection is required if remote work is relatively new to you.
Self-Motivation
Knowing how to prioritize tasks is incredibly important. Perhaps even more important is knowing when to put your nose to the grind and when to take a break. In a virtual environment, there's no boss or coworker leering over your shoulder one cubicle over making sure your work gets done.
Great Communication
Being open and honest with feedback, setting expectations, speaking up in meetings, and expressing yourself clearly are vital in ensuring your intended message comes across. In a remote company, much of the communication is done via apps like Slack or email, so condensing information is an important skill. Don't be afraid to ask for clarification or initiate a conversation!
Flexibility and Openness to Change
Virtual collaboration means being willing to hop onto unscheduled video chats, reprioritize tasks, and balance slow periods of work with busy periods.

After you've spent some time thinking about if your personality and work style are great for working in a virtual setting, there are a few other things to consider before searching for your dream remote role.
Things to Consider Before Applying to Remote Roles
Workspace
Having a dedicated and comfortable place to work will help limit distractions and get you into "work mode." This can be anything from a home office to a comfortable setup in the dining room. I'm privileged to have a spare room set up as an office! Also, be aware of your wifi speed and be sure it is high quality enough to handle smooth video, audio, and screen sharing.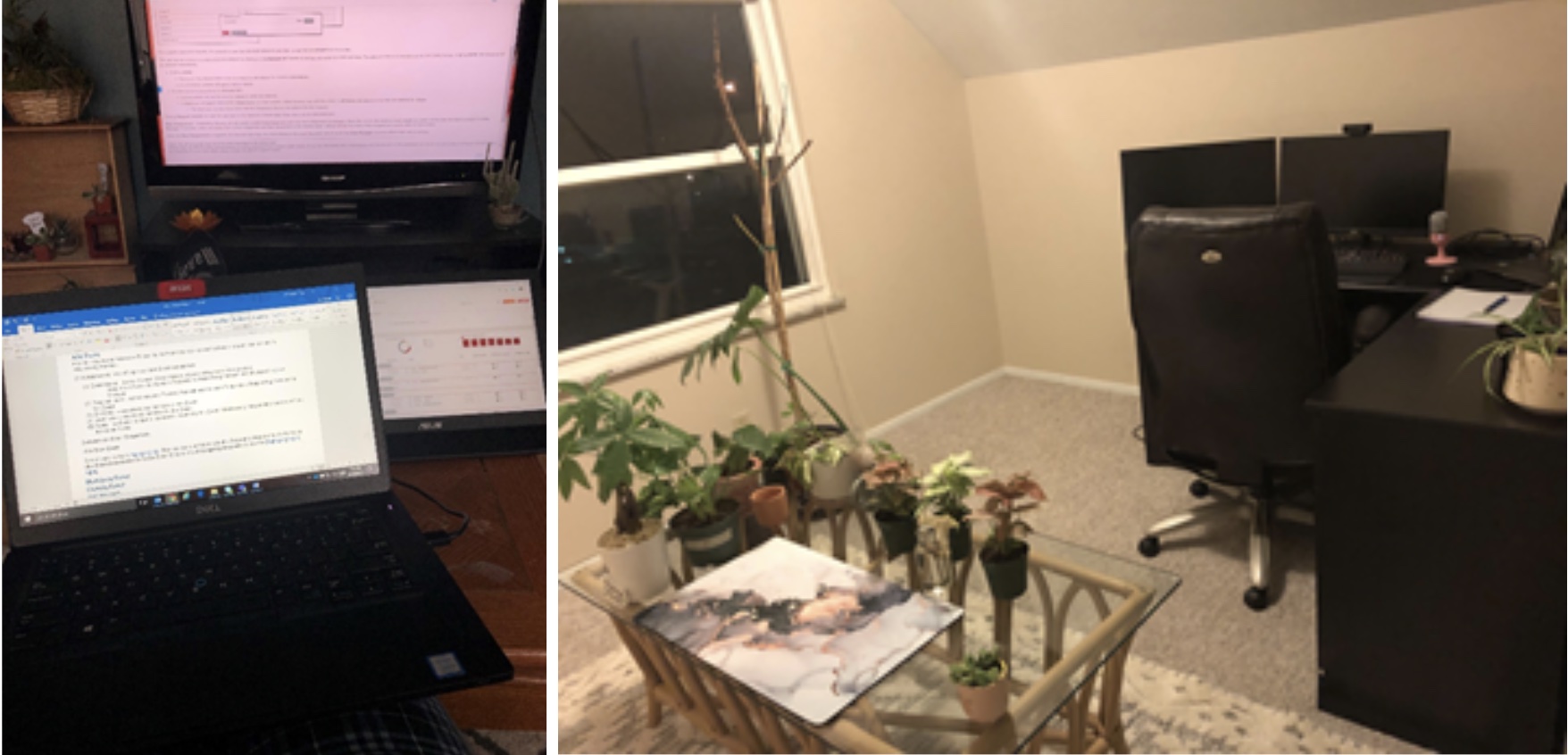 Pictured above:
Left: The beginning of March 2020, when I was working from my couch and thought it was such a novelty to use my TV as a 3rd screen.

Right: The end of March 2021 after I secured a fully remote role at Hum and spoiled myself by buying a ton of plants for my in-home office.
Working Hours
Even though remote work allows for some flexibility in your schedule, you should still have designated working hours. This helps set boundaries between work tasks and personal time and prevents burnout. Think about your ideal working habits... Are you a morning person? A night owl? Most fully virtual companies have core working hours. At Hum, the whole team is online 9 a.m. - 1 p.m. EST, regardless of their timezone!
Role
The stigma of working from home being for data-entry and highly technical freelance is deteriorating. The Covid-forced shift to remote work has proven that most office jobs can now be done remotely. Think about your professional experience and skills, and how those things transfer into a remote setting. What roles and job titles match the skills you want to utilize? Also, think about if you would prefer to work 100% remotely or in a hybrid role.
Okay, so now you've determined that you've got the right personality and the capability of a good at-home workspace. You're ready to start your search for your dream remote role.
Job Boards & Platforms for Remote Job Seekers
They recently updated their filters to make it easy to tell if a job is a fully remote role, or if it is only temporarily remote due to Covid-19. On Indeed, to search for remote roles you just need to type in the job titles you listed from the exercise above. You can either leave the "Where" field empty or type in "Remote." After you click "Find jobs" or hit the enter key, a row of filters will be displayed. To filter between actual remote roles and temporary remote roles, click the "Remote" dropdown.
Similar to Indeed, you'll just need to type in a job title, and in the "Location" field type in "remote" and select "Remote (Work From Home), US". Glassdoor also provides insight into employee reviews and estimated salary info.
This is a job board geared towards people looking for roles in technology. To search for remote opportunities, type a job title into the "Job title, skills or company" field and leave the "Location" field empty. Then click "Search Jobs" or hit the enter key. This will bring you to a results page, where there is a filter panel on the left side of the page. Click the "Remote" check box and it will filter the results and list remote opportunities!
This is a great job board for finding a role that has social impact. There are thousands of listings from non-profit organizations around the world. Similar to Indeed, Idealist allows you to filter out temporarily remote opportunities and only show permanently remote roles. Simply type title or skills into the "Search by keyword, skill, or interest" bar. If your location auto-populates, you'll just need to delete it and it will default to "everywhere." On the left side of the results page, you will see the filter options. Be sure to select "Remote" and deselect the "Include Temporarily Remote" box.
How to Decide if a Remote Role is Right For You
Required Working Hours
It's important to pay attention to the time zone of the job description and make sure that it's within the timeframe you're willing to work. You may think you'll be able to switch your sleeping patterns to meet the time requirements of that super cool job description from a company based several hours ahead (or behind) you, but I have seen people try and I can tell you that leads to burnout very quickly.
Company Culture
I was drawn to Hum, not just because of the remote-first culture, but also because of their fresh take on traditional corporate policies. In the job description, I knew that this was a new company looking to build new processes and that it was a small team comprised of intelligent, hard-working people. I could also tell that it would be a little more casual than the large corporations that I've worked for in the past. This newness and opportunity to help build and be part of something really excited me.
Because remote work is mostly self-driven, be sure to only apply for roles at companies that are interesting and exciting to you, and whose values align with your own.

I hope this blog post has been helpful and I wish you the best of luck in finding an amazing remote role! If you're interested in learning about open opportunities to join the Hum team, you can check that out here. Or if you're an employer seeking amazing thought leadership on how to hire and onboard remote talent click here.